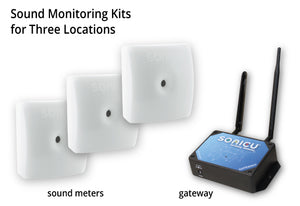 Sound Monitoring Kits - 3 Sound Indicating Meters
210003-SC
This kit includes everything you need to automatically monitor sound levels and log data 24/7, for 3 areas/rooms. It is an ideal solution for monitoring any sound-sensitive environment, including hospital patient care rooms, critical care suites, ICU's and NICU's, construction sites, and industrial manufacturing facilities.
SIM meters feature easy to understand, colorful visual alarms (green, yellow, red) that alert staff on-site when unsafe sound levels are occurring. Colorful SIM's are an effective way to modify staff behavior to achieve desired sound levels.
STAR, (Sound Target Achievement Reports) aggregate sound data and provide performance reports and analytics to identify problem areas and spot trends. SIM Kits provide the data needed to assess sound levels, identify locations of undesirable noise and measure improvements over time. 
Each Kit Includes: A one-year subscription to SoniCloud remote wireless monitoring platform for 3 points of monitoring, 3 SIM sound meters, power supplies, and mounting supplies.
Cellular Kits also Include MVP Gateway with 4G/5G Cellular Modem.
Notes:
To order, select the kit for your network type from the list above. 

4G/5G LTE cellular kit price includes a 1-year cellular data plan.

SIM meters measure sound levels in decibels at pre-determined intervals. They do not record audio, or collect, store, or transmit any patient data, eliminating any HIPAA or privacy-related concerns.

900MHz to Ethernet, and 900 MHz to Ethernet w/Cell Failover options available by contacting sales@sonicu.com
Colorful SIM visual alarms remind staff to modify behavior on-site.

Visual alarms can be disabled from SoniCloud Dashboard if desired. 

Unlimited data storage on Sonicloud

STAR Reporting tools help pinpoint undesired sound levels and measure improvement over time

Plug 'n' Play hardware deploys rapidly without the need for IT

The SoniCloud Dashboard can be displayed 24/7 on phone, tablet, or PC.