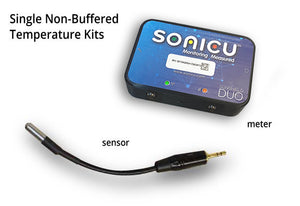 Temperature Monitoring Kit - Non-Buffered Sensor
200002-SC
Temperature Monitoring Kits with a non-buffered sensor includes everything you need to monitor and automatically log data for either a cold or warm storage device 24/7, in real-time.
Warm storage applications include blanket warmers, food warmers, incubators, etc. Cold storage applications include refrigerators, freezers, or walk-ins, for medical, scientific, and food industry uses when a buffered sensor is not needed. Meets or exceeds FDA, USP, and other regulatory requirements.
Each Kit Includes: 
- A one-year subscription to SoniCloud remote wireless monitoring platform
- SoniShield Duo Wireless Meter
- 1 sensor (with NIST Calibration Certificates) power supply
- 6ft cable, and mounting supplies.


ALSO INCLUDES:
- One-hour on boarding session with Customer Success Manager 
- Unlimited Hardware warranty while under a software subscription 
- Unlimited users 
- Free and unlimited on-demand and live training 
- DataSync: Power and data backup on device to prevent data loss during power/connectivity interruption
Available with Wi-Fi and Cellular Connectivity

Installation Is Quick and Easy

Features:
Best-in-Class asset protection – SMART Alerts and powerful alarm handler 

Redundant power, data transmission, and DataSync, for lossless data

Reporting tools auto-generate regulatory compliance reports

Plug 'n' Play hardware deploys rapidly without the need for IT

ISO 17025 NIST Sensor Calibration Certificate

Compliant with CDC, FDA, BOP, and VFC with audit logs, permanent data storage, and corrective action logs.

The SoniCloud Dashboard can be displayed 24/7 on a phone, tablet, or PC.

Contact us if you wish to add a dedicated local display.