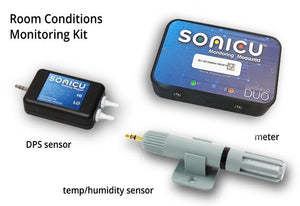 Room Conditions Monitoring Kit - (Display Optional)
200800-SC
Room Conditions Monitoring Kits include everything you need to monitor and automatically log data for ambient temperature, relative humidity, and differential air pressure between two rooms 24/7, in real-time.
Industries include; healthcare, life sciences, university research, pharmaceutical, and industrial sectors. Applications include; critical care environments such as surgical suites and isolation rooms, clean rooms, and pharmaceutical compounding rooms
Each Kit Includes: A one-year subscription to SoniCloud remote wireless monitoring platform, MVP 440 meter with power supply, Differential Pressure Sensor, temperature and humidity sensor (sensors include NIST calibration certificates), and mounting supplies.
Notes:
To order, select the kit for your network type from the list above. 

4G/5G LTE cellular kit price includes a 1-year data plan.

For a wall-mount, local display, order #000055 Flush Mount Display Kit.
DPS Differential Air Pressure Sensor: Accuracy: +/- 0.25%, Range: +/- 4 in H2O
Temp Range: -10˚C to +80˚C / Humidity Range: 0-80% RH
Features:
Best-in-Class asset protection – SMART Alerts and powerful alarm handler 

Redundant power, data transmission, and DataSync, for lossless data

SMART Reporting tools auto-generate regulatory compliance reports

Plug 'n' Play hardware deploys rapidly without the need for IT

ISO 17025 NIST Sensor Calibration Certificate

Compliant with CDC, FDA, BOP, and VFC program with audit logs, permanent data storage, and corrective action logs.

The SoniCloud Dashboard can be displayed 24/7 on phone, tablet, or PC. Contact us if you wish to add a dedicated local display.